Our history

---
In the early 2000s there were few in the Bay Area, California, who still paused to mark the anniversary of the June 4 Massacre in 1989. In 2004 Zhou Fengsuo and Zhao Jing, two physics graduates from Tsinghua University, and Xu Gang from Shanghai — all of them student participants in the 1989 protests — made an acquaintance at the 15th anniversary commemoration of the incident. They decided then and there that they would "do something" inside mainland China. They began extending microloans to help political prisoners readjust to life and establish themselves after being released from prison; fostering small-scale public-interest programs run by conscientious citizens; working with house churches and Christian fellowships to provide care for political prisoners; helping grassroots volunteers in Henan Province working with victims of AIDS-contaminated blood transfusions, and more. The limited funds for all this came from the pockets of the three founders.
In 2007, the three established the organization Humanitarian China in San Francisco, registering it as a tax-exempt charity. Over the following years, the primary source of funding for the operation was still personal donations from the founders. They focused on fostering the growth of civil society in China, providing relief to political prisoners and their families, and helping a number of victims in special circumstances relocate to the U.S., including, for instance, Fang Zheng, the Tiananmen Massacre survivor whose legs were crushed under a tank. Humanitarian China also made donations to victims of the Sichuan and Qinghai earthquakes in 2008 and 2010.
Ten years on, the primary work of Humanitarian China has gradually come to focus on providing relief for political prisoners and activists, and their families, who are currently in jail or have just been released. This shift was driven mainly by the fact that the plight of dissidents has become worse by the day, and their need for humanitarian assistance has similarly grown in severity and urgency.
Over the last few years, Humanitarian China has provided relief to over 100 people annually. From time to time the organization also establishes special donation drives — for instance to help the independent journalist Gao Yu, or the Uyghur intellectual Ilham Tohti, the 709 Incident rights lawyers, the wife of political prisoner Zhao Changqing, or the recently-deceased Yu Zhijian, one of the "Three Gentlemen of Tiananmen," and his wife.
From its founding to today, management and administrative tasks at Humanitarian China have changed hands numerous times, but they have always been carried out by volunteers. The operating costs are thus extremely low, comprising about 1 percent of the budget. Though Humanitarian China has grown over the decade since its founding, for obvious reasons the task of raising money in the United States for political prisoners and activists in China has not been a smooth or easy one. Our story is short and simple, but our faith in what we do gets only stronger. We are committed to our colleagues in China struggling for freedom and liberty; we'll pay them every attention, and at their hour of most dire need, we'll extend them a helping hand.
We hope that more overseas Chinese will join the ranks of our donors. We hope that they will take a stand against moral indifference and tyranny during this crucial time, and that they'll be proud to do so.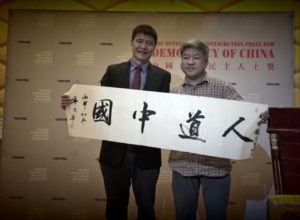 The 10th Anniversary of Humanitarian China

Our mission
---
With very limited resources, we work primarily to provide humanitarian support in China. We also help the development of a civil society in China to promote rule-of-law, human rights, and freedom of expressions. We focus on grass-root movements and people who are neglected by the outside world. We work on a case-by-case basis, where each member may have specific cases to support victims directly and independently.
We sincerely invite you to participate with us to this great cause in the history of China.
---
Administrative team

Please join us!

Last update: 2017-12-29, 12:16 AM